Strategy
Wealth is equal to and quantified by the size of contribution. Millix founders intend to put millix in the hands of at least one billion people.
Below is a sequence of the founder's plan to distribute millix from genesis to end user. The plan will be executed with intention and deliberation over multiple years to put millix into the hands of those who contribute the greatest value. Everyone with millix can decide how best to use it, which will determine and reshape how continued redistribution evolves over time.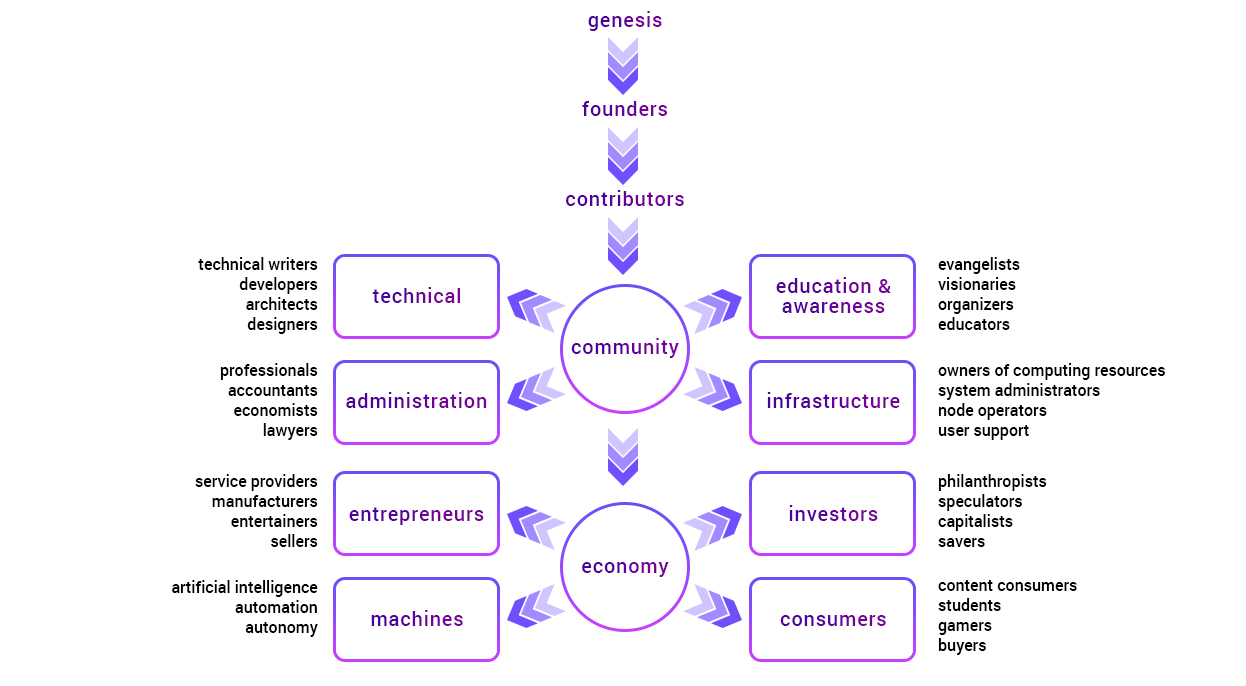 Every human is a candidate to contribute in at least one of the roles above. The larger the contribution, the larger the potential for receiving millix
Tactics
Each millix founder and co-founder has a vision of how to create value by distributing their millix. These proposals can change or be cancelled at any time and are not meant to imply any future value. Millix.org has no affiliation with, and offers no endorsement of, the plans below. The initiatives described below are only meant to provide transparency of potential work and functionality being independently pursued.
More details about each founder's plans can be found on their respective websites. The brands and initiatives mentioned below are not affiliated with millix.org and will operate as layer two applications built on top of the millix protocol.
Millix Founder: Price Givens
Price Givens envisioned the millix protocol, organized the initial community of contributors and funded it's development. Givens' core belief is that on a long enough timescale, artificial intelligence and automation will replace every existing job, without exception. His vision is to empower all humans to control durable income streams built on their abilities and passions. Since 2013 Givens has planned and constructed a codebase and portfolio of cryptocurrency centric businesses to integrate with each other and fulfill this vision.
- Economic and community models similar to those above will be implemented across the non-cryptocurrency centric brands owned by Givens. These brands focus on finance, entertainment, localization and community generated data.
- In addition to the initiatives above, Givens accepts proposals requiring funding and incubation that can add value to the millix community and economy.
Millix Founder: Dr. Emmanuel Braden, MD
Dr. Braden contributed to the millix protocol vision, the protocol architecture and the funding of its' development. Hisfocus is on machine level transactions and infrastructure.
- Millix node operators provide the computational resources to process transactions and store data. Braden will bridge the gap between genesis and organic adoption of the millix protocol by incentivizing users to operate nodes on the millix network. This operation will be done simply by using the millix protocol as it is designed to be used: by submitting millix transactions with fee payments.
- The millix protocol selects nodes to proxy, validate then propagate transactions to the network. Anyone operating a node has the potential to be selected as a proxy to earn transaction fees. The size of the fees can be adjusted in real time based on network conditions to incentive the number of nodes and their configurations to add computational resources where the network needs it.
- Millix Network Services is an open source, distributed, censorship free version of the internet using the millix protocol to route traffic and host content. Name registration and DNS will operate via millix transactions that are stored across millix nodes. The registered names will point to content that can exist within millix transactions and stored across millix nodes or to traditional web servers.
- Millix Cloud computing allows millix node operators to earn fees by accept computing tasks. This monetizes otherwise unused computing resources such as cpu, gpu, memory, disk and electricity to be rented out to a marketplace of developers and system administrators. Unlike traditional monopolistic cloud computing products, Millix Cloud computing is censorship free, decentralized and priced via a free market.
- In addition to the initiatives above, Dr. Braden accepts proposals requiring funding and incubation that can add value to the millix community and economy.
Millix Core Team Member: Danny D'Brito
Danny is in early stages with two prototype solutions:
- Crowdsourced activism allowing anyone in the world to author change-based public policy initiatives, recruit support, funding, polling and direct action via protest, lobbying and awareness for their cause. Millix will be the reserve currency for fund raising, polling and voting.
- Copyright marketplace connecting licensors and licensees of audio, visual and written content. The solution is meant to broaden content creator's access to the resources of the entertainment industry and to broaden the entertainment industry's exposure to talent. The initial use case will be focused on record labels, distributors (licensees) and musicians, DJs, audio engineers and producers (licensors). Millix will be the reserve currency for commercial features, interactions between users and storing content.